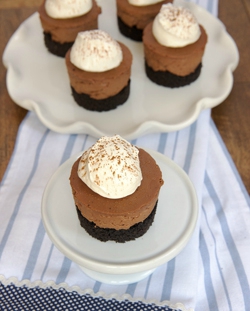 I never need much of an excuse to make mini desserts, but today's tiny sweets are for a very special occasion interactive digital signage. My friend Lauren of Keep it Sweet Desserts is having a baby boy, and a bunch of us are surprising her with a virtual shower featuring all things mini!
I went all out chocolate with these little guys. I started with a simple chocolate cookie crust and then topped it with a wonderfully simple no-bake chocolate cheesecake filling. They have such a wonderful chocolate flavor and they are so smooth and creamy and cool Civil Engineering BEng .


I used my mini cheesecake pan for these minis. It's such a great pan for mini cheesecakes, whether you're baking them or making no-bake versions. It's the best way to get mini cheesecakes without using paper liners.
I do suggest that you fill them with just a bit of filling at a time, press it in well, and continue adding more until they're full. That will help you fill them completely with no gaps. You can try piping it in, but keep in mind that the filling is a a bit thick.
As this is a baby shower, I resisted the urge to spike that filling with some liqueur, but feel free to do so if you like. I am sure a coffee-flavored or hazelnut-flavored liqueur would just be lovely. But for the baby shower, we'll just skip it Wire Hooks Display.